It's no secret that the cosmetics industry doesn't necessarily have the best relationship with black women. It seems like there is a new issue every week, with brands either ignoring or disrespecting black consumers in a variety of ways. The logical answer would be for all of us to only buy from black-owned brands – however, this is easier said than done, especially when it comes to products like foundation. First, there are barely any mainstream black-owned makeup brands sold locally – I know that in my area, the only black-owned brand I can find is Iman. Second, many indie brands do not sell foundation and instead opt for lipstick and eyeshadows, which are more versatile and sellable because consumers buy multiple shades of one product. Third, shade-matching online is next to impossible for many of us. I know that every time I buy a foundation shade online, unless it's like a super sheer one (more of a tinted moisturizer), it never matches and I can't stand spending $30-$40 for a product I have to repurpose.
But all is not lost! We found 10 brands that seem to "get it" and provide a wide range of shades. *Please note, the drugstore brands do not have testers available (NYX had some in Ulta but the shades were not representative of the actual line, which was another controversy), but they are much more cost effective than the other brands, and depending on where you purchase, you may be able to return it in store.*
Sephora Collection 10HR Wear Perfection Foundation, $20
Sephora offers a whopping 37 shades (all not shown) of foundation that cater to pink, yellow, and neutral undertones. The formula is oil-free and boasts long wear, but note, some reviewers said it enhanced dry patches, so be careful if you have dry skin. Luckily, Sephora allows returns.
koyVoca Cream to Powder Foundation, $16
koyVoca is a black-owned indie brand with 21 shades of foundation with warm, neutral, and cool undertones. Win! I especially love that there aren't 50-11 shades of fair and they are looking at a wide spectrum of tones. I'll definitely be checking this brand out – they also sell contour cream, concealer, and setting powder.
Anastasia Beverly Hills Stick Foundation, $25
We posted about ABH's foundation sticks when they first came out and received some backlash because the company is not black-owned. However, ABH has consistently taken women of color into consideration when creating new products, and 30 shades of foundation is nothing to scoff at, especially a stick foundation. The formula is best for those with combination or oily skin.
NYX Total Control Drop Foundation, $14
While I was not pleased with the NYX display in stores, I do have to commend them for making so many foundation shades for a drugstore brand. The formula and design is similar to Cover FX's Custom Drops, but much less expensive – you can fine tune your coverage with the included dropper. And like I said, I hate buying foundation online, but at least this one is $14 and they do have a shade finder on the website. I can't wait for this to be more widely available.
Lancome Teint Idole Ultra 24 Hours Long Wear Foundation, $47
I'll be honest, when I think of diversity, Lancôme is not the first brand that comes to my mind, so I was surprised to see that they have an astounding 40 shades for their super long wear formula. It's even transfer resistant! Because this product is on the pricier side, I definitely recommend shade matching in the store.
Cover FX Pressed Mineral Foundation, $36 
Calling all powder foundation lovers! Cult favorite Cover FX has 40 shades of their oil-absorbing powder, which is great for those with oily skin. I personally am more partial to powder formulas because you can get them to go on fairly sheer using a brush, and I don't like a ton of coverage.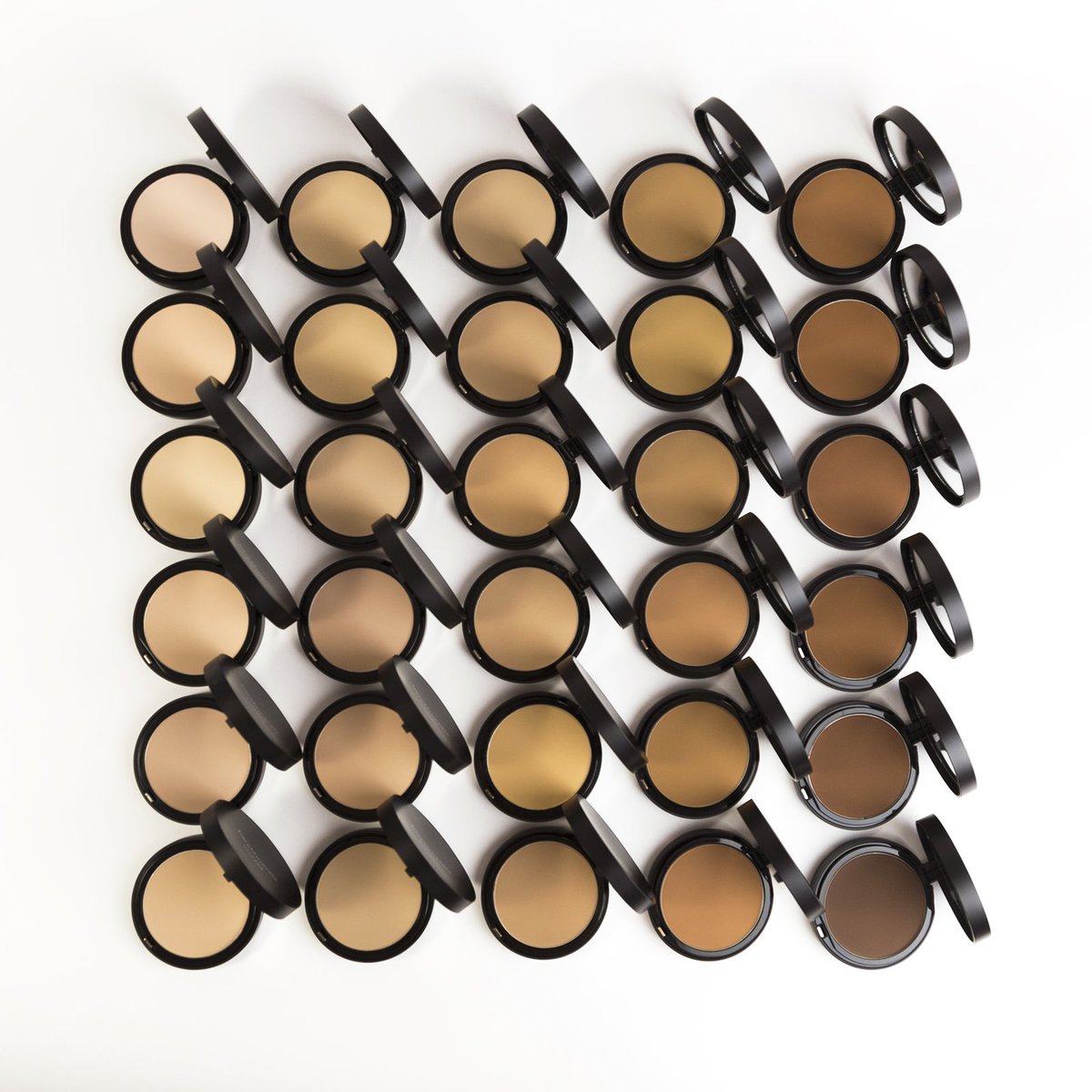 Bare Minerals BAREPRO Performance Wear, $30
When I first started becoming more enthused with makeup, BM was the only brand that didn't make my face itch or make me feel like I was wearing a layer of Nutella on my face. That formula wasn't pressed, but this one doesn't look as messy, and comes in 30 shades to boot. If you have sensitive skin, I recommend trying out this brand.
Wet n Wild Photo Focus Foundation, $5.99 
Another notable drugstore pick – Wet n Wild has certainly been stepping up their collections over the past year. Their new foundation has 20 shades and will only cost you $5.99. They claim that the formula will give you flawless skin in multiple types of lighting and will prevent powder flashback.
Make Up Forever Ultra HD Foundation, $43
If 40 shades isn't appealing enough to you, this is one of the only formulas I looked at that specifically claims to be for ALL skin types. The MUF founder boasts that the product was made to meet the everyday needs of all women – something more beauty brands should focus on.
Est?e Lauder Double Wear Foundation, $39.50 
Another one that's smudge-proof and long lasting, EL's product has 37 shades divided by category on their site. It seems like a good choice for those of us who go from work to the gym to Target without skipping a beat.
I know, some of you are wondering why there aren't more drugstore (ie, affordable) brands in this list, and the unfortunate truth is that several brands are severely lacking when it comes to shade range. A lot of them average around 13 shades, with only a couple of deeper skin tones, and I think we all know that black women come in a plethora of shades. The brands above are off to a great start, and I can only hope that more brands start coming out with versatile shade selections. Maybe one day, 40 shades will be in the minimum.
What are your favorite foundation lines?